All at Sea

Racing commences with purpose in the Chicago heat
Friday, 17 June 2022
Racing commences with purpose in the Chicago heat
With record temperatures soaring ahead of the T-Mobile United States Sail Grand Prix in Chicago 18/19 June, the Great Britain SailGP Team, led by the world's most successful Olympic sailors Ben Ainslie and Hannah Mills, have been busy on and off the water as they prepare to enter the heat of battle on Lake Michigan.
Throughout the week in Chicago the team has continued their commitments to leave a legacy at each SailGP event location they visit by engaging with two local youth programmes to meet and inspire their young students. This forms part of the team's ambition to help over one million young people take action to protect nature, people and the planet.
Through a partnership with the GREAT Britain and Northern Ireland Campaign, of which Ben Ainslie is an ambassador, Hannah Mills visited the Lady Of Tepayac Elementary School to speak about her career pathway and why climate action is so important. The school is part of the Big Shoulders Fund which provides administrative support to schools through scholarships and enrichments, operational improvements, academics programs and leadership development aiming to strengthen not only the schools, but also the communities in which the students live.
Alongside the school visit the team also took the time to visit their adopted sailing club in Chicago, the Jackson Park Youth Foundation. Located in South Shore, one of City's neighbourhoods hardest hit by gun and youth violence, the Foundation provides the outreach, education, training, support and resources necessary to engage young people and adults in boating and other activities on and around the water.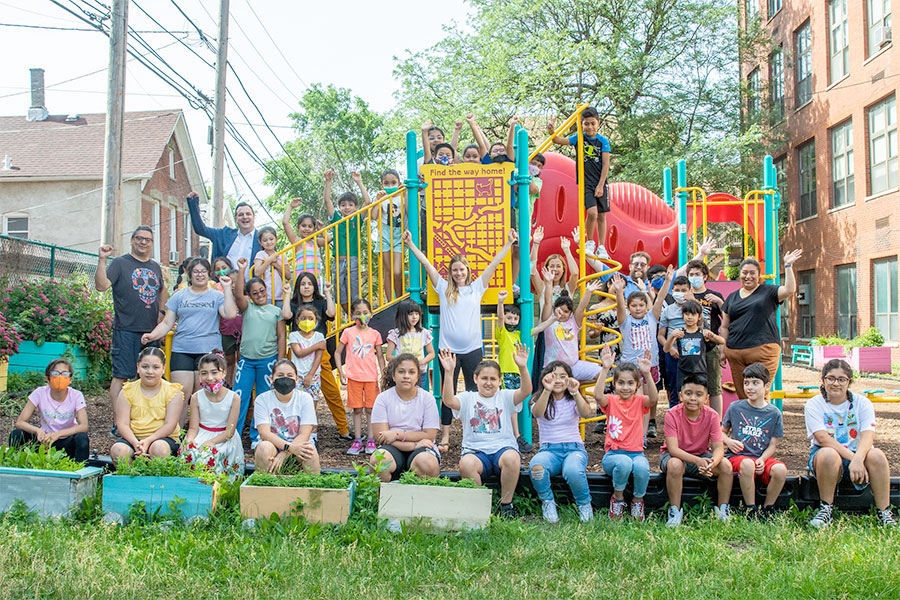 Hannah Mills visiting the Lady of Tepayac Elementary School (c) D Wilko for SailGP
Speaking about the week's activities, Hannah Mills said "whilst we want to win every race on the water we also want to leave a lasting legacy off the water and Chicago is a perfect example how we can use our sporting platform to inspire change for the next generation.
"It was fantastic to talk to the students and hear their thoughts on climate change and other issues, to then see them being taught one of our 'Protect our Future' digital climate change resources was amazing. We hope that it can bring a lasting impact on their education".
Before Chicago, the team also welcomed the partnership renewal announcement by Corpay, a FLEETCOR® (NYSE: FLT) brand and global leader in business payments, which includes support for the Protect Our Future platform and commitment to join the new partner programme, COLAB, which brings together companies from different industry sectors to drive positive change and behaviours.
Speaking about the partnership, Great Britain SailGP Team CEO and Team Principal Ben Ainslie said: "When we relaunched our team earlier this year and launched our new partner programme, COLAB, we stated a commitment to bring together companies from different industry sectors to drive positive change and behaviours. We are delighted Corpay are joining us in the vision and have immediately committed to driving positive change themselves by supporting our Protect Our Future platform. We look forward to collaborating and innovating with them over the coming season.
The second event of SailGP Season 3 kicks off again in Chicago, with the British team looking to continue the form that saw them finish second at the season opener in Bermuda last time out. The only squad change sees Hannah Diamond return for her fourth event replacing Nikki Boniface as part of the Women's Pathway Program rotation. Driver Ben Ainslie is again on the wheel, Olympic gold Medallist Iain Jensen on Wing Trim, fellow Aussie Luke Parkinson on flight controls, and British trio Nick Hutton, Neil Hunter and Matt Gotrel on the grinding handles.
The T-Mobile United States Sail Grand Prix in Chicago 18/19 June will play host to SailGP for the first time with the sold out grandstand on the famous Navy Pier set to bring the noise as the ten-nation flying fleet of F50's battle it out in their aim to win the end of season highly coveted $1 million top prize.
The post Racing commences with purpose in the Chicago heat appeared first on All At Sea.
This article was first posted on All at Sea, you can
read it here
.